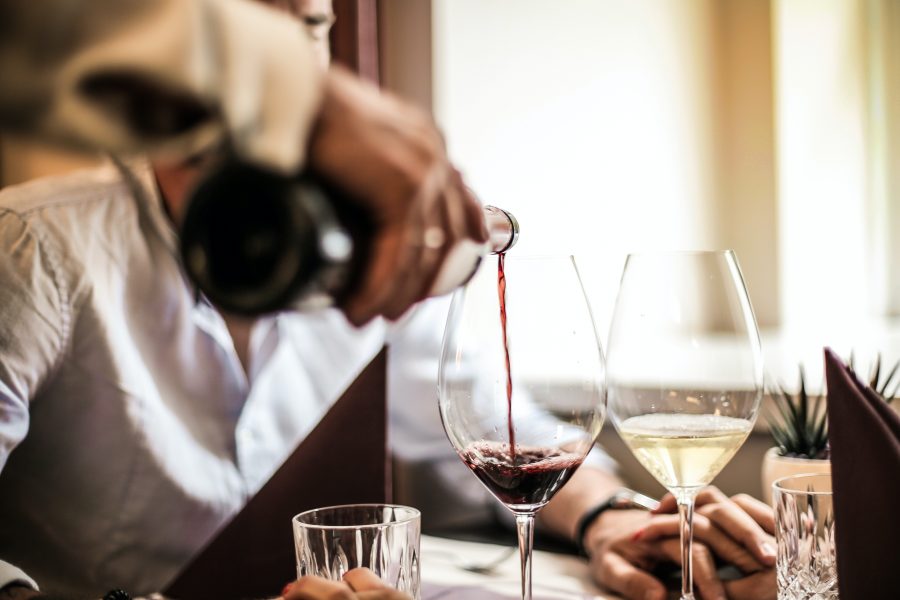 Wine lists become an extension of the personality of the venue. (Photo: Pexels)
Wine lists have always fascinated me. This makes sense considering my career, but it's been longer and goes deeper than a job choice.
There's something about the work that goes into them, the planning and detail to make a good one that fascinates me. They become an extension of the personality of the venue, be it a short one-page number of eclectic drops or a multi-paged leather-bound tome housing the great wines of the world.I love technology and all the things it can do, but I must admit that when it comes to a wine list I struggle with the idea of having it on an iPad.
I recall being in restaurants, well before I could drink wine, but noticing the ceremony of the wine list, its presentation and the interest with which it held the wine selector on the evening.
This was generally well before we had sommeliers on the restaurant floor but there was still a sense of occasion when the wine was chosen. I have always loved a good read and this idea of a list that traversed both the world time stuck in my mind for years to come.
I have hundreds of lists saved on my computer, quite a few physical copies that I have worked with over the years too. It's great to stop and ponder them in their moment of time, a snapshot of the day.
Every couple of months I save the current Fix Wine Bar + Restaurant wine list, so now I have 14 years of history to look back on. It shines a light on how far the Australian wine drinking public has come over the past decade and more.
To pull together a great list there are so many factors to be addressed, but I do believe it takes time for a list to truly show its personality.
A list of the great wines and vintages of the world is an exercise in budget, impressive yes but somewhat one dimensional. As time goes on there begins a thread of life and it moves into a living thing, morphing with the simple commercial vagaries of stock control, customer buying habits and the influence of those selling the wine on the floor.
I love looking at a list and getting a feel for the venue, the people and food they provide. Not every list has to be huge, nor serious. If you get a chance to look at something like the list at Terroir|Tribeca (NYC) then you'll see not just a list of wines but a piece of entertainment and joy.
However, right now we have a dilemma, in these times of COVID-19 those great expressions of personality can't just be handed around, to be shared amongst multiple tables. They have to be reduced down to a single-use sheet of paper or laminated to be repeatedly sanitised.
Can we keep that personality in these formats? Do we look to technology to provide the connection between the list and the user? It's a question that I'm still working on and the sommeliers I've spoken with are still coming to terms with.
For me, I've decided this is the opportunity and frankly the better business decision to reduce the stock I hold and bring the wine list down in size.
Before shutting down we were holding about 250 wines on the list, right now it's about 50 bins. Over the next week though we will jump up to about 100. This only possible by finally being able to secure an A3 printer. Yes, the working from home directives has done wonders of printer sales and the like!
I'm excited by this change, it has invigorated me in how I'm pulling the list together to keep it balanced but also fit it into one page.
Our by the glass offer will also once again grow, heading back to at least 50% of the list, probably more because I'm obsessed with the Coravin system and how wines develop under it. I do have one card up my sleeve though when it comes to size, I can always print double-sided.
With this new paradigm in mind, I reached out to Amanda Yallop, wine director for the Fink group to see how they were managing this challenge at Quay and other venues, where those encyclopaedic lists have purpose and add gravitas to such world-class dining experiences.
Much like me, Amanda is very conscious of the business side of the list right now, large stock holdings are not the way to play it in the current climate, if there's wine that's been cellared then it can be liquidated, both literally and metaphorically.
Wine service at Quay has always been a highlight in the country and they've transitioned to a single-use page with the by the glass offer along with cocktails, beers and so forth. This list remains with the table during the meal but also has a QR code which will take the diner to the entire list on their own device.
This is a compromise I see playing out across the country and handles the tension between tradition and technology as best possible in the current circumstances. As a venue, they also have the ability to update the list in real-time to avoid those pesky out of stock moments we all dread.
I love technology and all the things it can do, but I must admit that when it comes to a wine list I struggle with the idea of having it on an iPad or similar, the personality and sense of the venue I fear will be lost in an overload of information that an electronic list can deliver.
Maybe I'm just getting old, and when the next generation gets involved and starts their own restaurants and bars I'll be the grumpy old bloke telling everyone within earshot about how much better it was back in the good old days.
First publish on The Real Review 28/7/2020